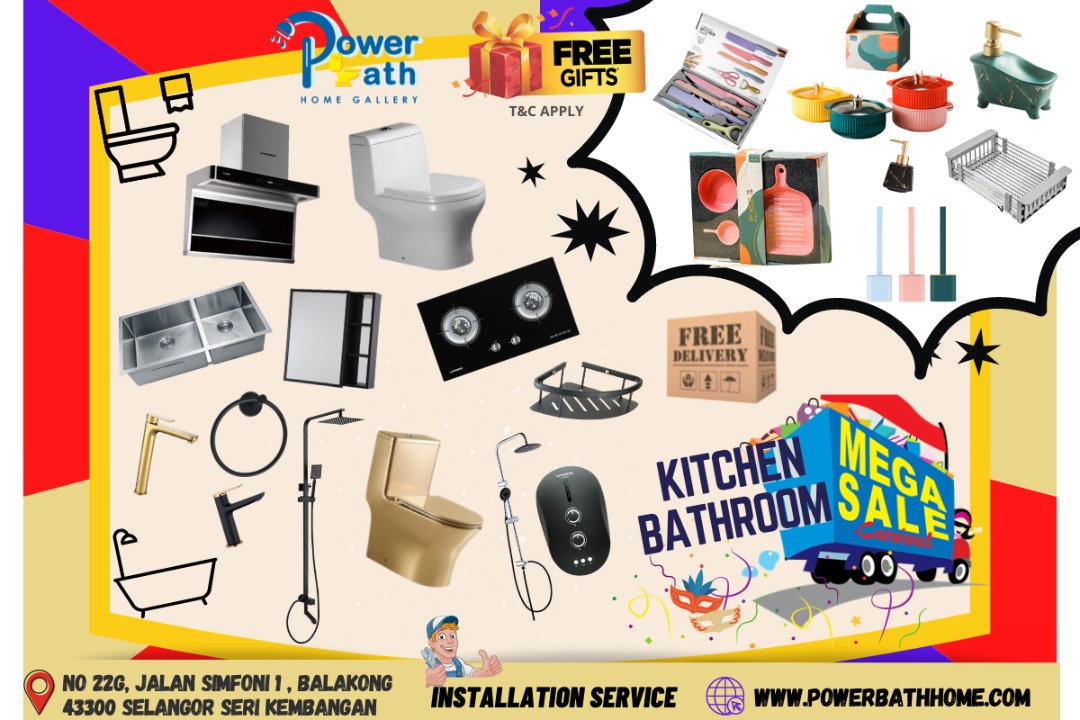 Get up to 𝟴𝟬% off on Bathroom Accessories (

Gold,

Black,

Rose Gold Series) Kitchen Sink, Water Closet, Basin Cabinet and so on...We Carry Branded Kitchen and bathroom ware like 𝗦𝗢𝗥𝗘𝗡𝗧𝗢,𝗟𝗜𝗩𝗜𝗡𝗢𝗫,𝗥𝗨𝗕𝗜𝗡𝗘,𝗝𝗢𝗩𝗘𝗡,𝗟𝗘𝗩𝗔𝗡𝗭𝗢,𝗖𝗔𝗕𝗔𝗡𝗔,𝗥𝗜𝗡𝗡𝗔𝗜,
𝗚𝗟𝗢𝗥𝗬,𝗠𝗢𝗖𝗛𝗔,𝗗𝗨𝗩𝗘𝗡𝗔,𝗙𝗘𝗟𝗜𝗖𝗘,𝗥𝗢𝗖𝗖𝗢𝗡𝗜 𝗘𝗧𝗖..
𝑾𝒉𝒚 𝑪𝒉𝒐𝒐𝒔𝒆 𝑷𝒐𝒘𝒆𝒓 𝑩𝒂𝒕𝒉 ?

Free Deliver !!

Lowest Price Always

Guarantee Products

Latest Design

100% Customer Satisfaction

Professional & Helpful consultant
𝐋𝐈𝐌𝐈𝐓𝐄𝐃 𝐓𝐈𝐌𝐄 𝐎𝐅𝐅𝐄𝐑 𝐅𝐑𝐎𝐌 16/10/21-20/11/21

Location : No 22G, Jalan Simfoni 1, Balakong 43300 Seri Kembangan Selangor.
Shop with us online/in stores , our helpful Sales Consultant
will assist to take Real Product Picture, Video, Measurement ,Product Demo etc !
𝘋𝘰𝘯'𝘵 𝘮𝘪𝘴𝘴 𝘰𝘶𝘵 𝘰𝘯 𝘨𝘳𝘦𝘢𝘵 𝘥𝘪𝘴𝘤𝘰𝘶𝘯𝘵𝘴 𝘧𝘳𝘰𝘮 𝘗𝘰𝘸𝘦𝘳 𝘉𝘢𝘵𝘩 𝘏𝘰𝘮𝘦 𝘎𝘢𝘭𝘭𝘦𝘳𝘺 !!!
Contact us for more details:
ᴸᴵᴺᴱ ¹

WhatsApp:
http://api.whatsapp.com/send?phone=601151361314
ᴸᴵᴺᴱ ²

WhatsApp:
http://api.whatsapp.com/send?phone=60102322887
#powerbath #malaysiasales #bestoffer #Kitchenhoodandhob #bathroomaccessories #salescarnival